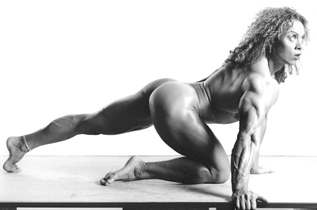 Andrulla Blanchette
photos:
53

videos:

0

BIO

Provocative Andrulla is a Ms. Olympia Lightweight Champion with a huge following. This unusual woman has a lot to say in our interview with her.
BIRTHDATE: July 29th
PLACE OF BIRTH: London
LIVES NOW: London
COLOR OF EYES: Brown
THIGHS: 23 1/2
MEASUREMENTS: 40, 25, 34
FAVORITE BODY PART TO TRAIN: Legs "They are the most challenging."
BEST LIFTS: 45 degree leg press at 1,100 lbs. ("I don't squat heavy, but I make up for it with these.") and incline dumbbell press for chest ("I use 100 lbs. in each hand, and by the way I don't bench press."?
photos: 32
photos: 21